By Imperical Evidence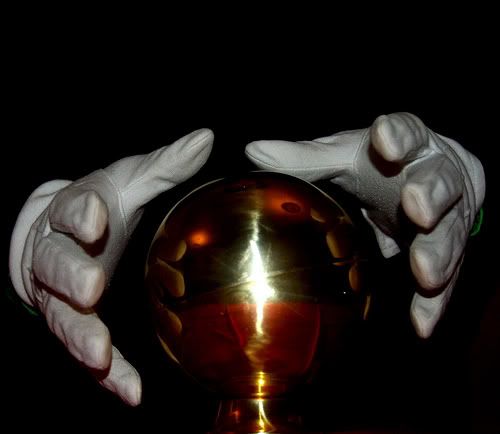 That's right, the crystal ball is back. Now it wants to tell me something about
Cliff Avril
. I have listened to many fans on Mlive and other sites
say Cliff Avril is average at best. There were even fans that wanted him gone in some kind of trade package. Well, here's the deal, Cliff Avril will be a Lion this year. Further,
he will be a key player on the defensive side of the ball
. How can I write that? Simple, I think his numbers over his first two seasons as a Detroit Lion are actually pretty good. I think a comparison is in order. There is a defensive end the Lions acquired in a trade that has generated all kinds of excitement,
Kyle Vanden Bosch
. If we look at his numbers and when he had his break out season I think it can tell us something about Cliff Avril.
Kyle Vanden Bosch was originally selected in the second round of the 2001 NFL draft by the Arizona Cardinals. That year, he started and
played in 3 games, registering 13 tackles, 11 solo tackles, defended 1 pass, and got credit for a half of a sack.
In his second year, he played in and started all 16 games for the Cardinals.
He racked up 50 tackles, 37 were solo tackles. He got credit for three and a half sacks. He had 0 passes defended.
Well, then how does Cliff Avril compare to that?
Cliff Avril was drafted in the third round of the 2008 NFL draft, 92nd overall, by the Detroit Lions.
In 2008, he played in 15 games and started 4 of them.
He recorded 23 tackles, 18 were solo. He was credited with 5 sacks in his rookie year, but had no passes defended
.
In his second year, Avril
played in 13 games and started 11 of them. He had 41 tackles, 27 of them were solo tackles. He also got credit for 5 and a half sacks and 3 passes defended.
Now, I think the numbers speak for themself, but given that Avril was drafted over a round lower than Vanden Bosch, and that he struggled with an injury in his second year, I give Avril the edge. I don't even think it is close at this point. Kyle Vanden Bosch goes on to play in all 16 games his third year, but starts in only 1 game. He records 13 total tackles, 11 solo, and no sacks or passes defended. The following year, he goes to Tennessee and explodes for 12.5 sacks. I think Avril has his break out season this year, and even if he disen't, he has Vanden Bosch beaten soundly for the first 3 years of their careers. The addition of
Ndamukong Suh
in the middle can only help to free up both defensive ends on the pass rush. Cliff Avril has also progressed very well in the run defense and should be able to play all 3 downs.
Cliff Avril is also going into his second year with basically the same defensive scheme, and same coaching staff. These will be very important factors to his comfort level on the field.
This is one guy that I watch this year.