By Imperical Evidence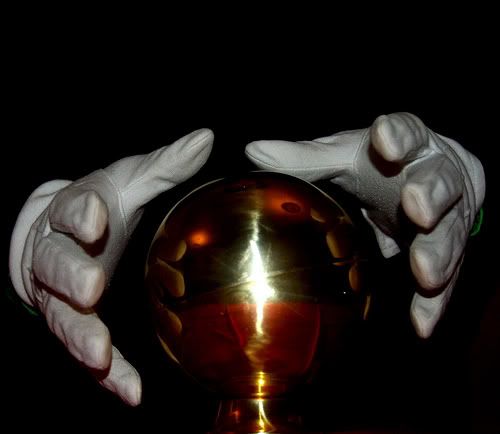 Its early , I know , which would make any predictions about the upcoming season and the Detroit Lions all the more improbable. I am going to give it a shot , using an ancient gift from the master himself ,
Merlin
. Once , a very long time ago , an old man asked me if I wanted to learn some real magic. I was amused , but accepted the invitation. What happened after this is the very stuff many myths and legends are made of. However , to make a long story short , I did come to realize that this old man was way more than one might think by his appearence. After many years of study , the old man was gone , he didn't say where , or when , he would show himself again. There was a note on the door , and a box on the steps. The note was simple , and short , it said:
"This box contains the gift of the future , only use it when times are dire , and the people need this gift. You have done well and learned much in your short time as my apprentice , I trust you will not misuse this gift,""Merlin"
So , looking at the current state of everything , from the economy to the morale of our great state , I have decided that now is the time , there are many people in need , and Lions Nation needs some reassurance.
I will try to break down parts of the team that will have an impact on this season for the Lions , starting with the Offensive Line , and predict what will happen there. So lets look at that. Here are the current players on the roster for the offensive line now:
Offensive Tackles:76 Backus, Jeff T 6-5 305 31 9 Michigan75 Barton, Kirk T 6-6 300 24 1 Ohio State77 Cherilus, Gosder T 6-7 319 24 2 Boston College74 Cook, Damion T 6-5 330 30 9 Bethune-Cookman72 Foster, George T 6-5 338 28 7 Georgia78 Murtha, Lydon T 6-7 315 23 R Nebraska70 Loper, Daniel T 6-6 320 27 5 Texas TechSalaam, Ephraim T 6-7 310 32 12 San Diego StateCenters:65 Gandy, Dylan C 6-3 290 27 4 Texas Tech64 Gerberry, Dan C 6-3 302 23 R Ball State51 Raiola, Dominic C 6-1 296 30 9 NebraskaGuards:63 Ramirez, Manny G 6-3 335 26 3 Texas Tech60 Blair, James G 6-3 338 23 1 Western Michigan73 Fonoti, Toniu G 6-4 340 27 7 Nebraska66 Peterman, Stephen G 6-4 323 27 5 Louisiana State
How can we expect this all to break down?
Left Tackle

:Jeff Backus
will be the starter here , with
Daniel Loper
as the backup.
Right Tackle:
Gosder Cherilus
is back this year , blocking downhill on the run plays for a change.
George Foster
is a backup here , and at the guard spots.
Left Guard:
This position is still up for grabs , with
Damion Cook
having an edge simply because he had 2 starts at LG for the Lions last year , and he can play Tackle.
Manny Ramirez
might have a shot to win this job , but is a good backup at guard , Cook has the edge here because he is a tackle.
Right Guard:
Stephen Peterman
is the starter here , and recently signed a long term contract with the Lions. Lets hope his knees can hold up. Foster is the backup here , with
James Blair
still in the mix.
Center:
Dominic Raiola
is still here , and the Lions don't have much of an option at this spot. I expect
Dylan Gandy
to be the backup center.
Ok , so who is left?
Players that I do not expect to make the roster:Toniu Fonoti
, a huge(literally) waste of talent.
Dan Gerberry
, on the outside looking in with Raiola having a long term contract.
Kirk Barton
, how mant Tackles does this team want to carry? The Lions seem to like false start Foster for some reason.Damion Cook , if he dosen't get the starting spot at left guard , he might get cut loose to make room for some younger players.
James Blair
, again , with Foster able to play the guard spot , Blair is on the outside looking in.
Ephraim Salaam
, the Lions want a look at this guy , but I don't think he will upset the apple cart , I expect him to get cut.
Your Offensive Linemen Roster for 2009:
LT Jeff Backus
RT Gosder Cherilus
C Dominic Raiola
LG Manny Ramirez
RG Stephen Peterman
Backups:
LT Daniel Loper
RT George Foster
C Dylan Gandy
OT Lydon Murtha
Practice Squad:
James Blair
What will happen this year:
The line will play better simply because of the new coaching style , Cherilus blocking downhill helps the running game. The addition of Brandon Pettigrew at Tight End helps the running game as well , and sets up the passing game on Third and short. I expect
Daunte Culpepper
to play well , but not have the huge come-back year he needs to have. Lets face it ,
Matthew Stafford
is the future quarterback of the Detroit Lions , but thats another story.
Now the bad news:
Jeff Backus will play better , but he isn't the franchise Left Tackle I would want protecting my star QB. He will be replaced next year in the draft. Dominic Raiola needs to play much better in the running game , which actually got better after he was out of the line-up last year. I also think the Lions need to look really hard at the Centers coming out in the 2010 draft.
So , who is there next year in the draft?
An Mlive poster ,
canusaylions
, has done some amazing research on this topic. Here is what he came up with on the Offensive Tackles:
Here is five good reasons why we should not worry about what happens with Jeff Backus. I will follow this post with five good reason not to worry about what happens with Loper.
-------------------------------------------------
1.
Russell Okung
, Oklahoma State
Height: 6-5. Weight: 300. Projected 40 Time: 5.22.
Projected Round (2010): Top 5 Pick.
1/6/09: Russell Okung, Oklahoma State's starting right tackle, qualified for the All-Big XII First Team. I couldn't blame him if he declared early, but he could be a first-round prospect if he wats another year. There's even a chance he gets drafted toward the end of the opening round this April.
7/27/08: Played extremely well for the Cowboys as a sophomore. Russell Okung should be able to play multiple positions at the next level, as he also works out at guard.
2.
Bryan Bulaga
*, Iowa
Height: 6-6. Weight: 305. Projected 40 Time: 4.92.
Projected Round (2010): Top 15 Pick.
2/9/09: A very athletic left tackle from a program known for producing stud offensive linemen, Bryan Bulaga was an All-Big Ten second-teamer as a sophomore. Bulaga started as a true freshman.
3.
Trent Williams
, Oklahoma
Height: 6-5. Weight: 310. Projected 40 Time: 5.27.
Projected Round (2010): Top 25 Pick.
1/6/09: Trent Williams is having an amazing junior year, and could have challenged Duke Robinson and Phil Loadholt as the first Sooner lineman off the board if he declared early.
4.
Ciron Black
, LSU
Height: 6-5. Weight: 315. Projected 40 Time: 5.27.
Projected Round (2010): 1-2.
1/6/09: Assuming he declares early, Ciron Black is one of six offensive tackles who are projected to be drafted in the first round. Black, who has started all 39 of his games at LSU at left tackle, is an All-SEC second-teamer.
11/1/08: Paving the way for Charles Scott this season, Ciron Black is likely the fourth tackle to go in the first round.
5/24/08: A member of the All-SEC second team, Ciron Black is a tremendous athlete who should be the third tackle off the board come April 2009.
5.
Anthony Davis
*, Rutgers
Height: 6-6. Weight: 335. Projected 40 Time: 5.24.
Projected Round (2010): 1-2.
2/9/09: Flawlessly made the transition from guard to left tackle, starting 11 games as a sophomore. Anthony Davis made the All-Big East Second Team.
7/27/08: A big man who qualified for the Freshmen All-American first team and All-Big East third team. Anthony Davis started the final eight games of his freshman campaign.
Here is what
canusaylions
came up with on the Guards:
Here are six good reason why we should not worry about what happens with Left Guard after this year.
----------------------------------------------
1.
Rodney Hudson
*, Florida State
Height: 6-2. Weight: 292. Projected 40 Time: 5.21.
Projected Round (2009): Top 25 Pick.
2/10/09: Continued to thrive as Florida State's top lineman. Rodney Hudson easily was voted to the All-ACC First Team.
7/28/08: Regarded by many as Florida State's best offensive lineman in 2007 - when he was a mere true freshman. Rodney Hudson was naturally named to the Freshmen All-America first team and the All-ACC third team.
2.
Sergio Render
, Virginia Tech
Height: 6-4. Weight: 324. Projected 40 Time: 5.20.
Projected Round (2009): 2.
2/10/09: A member of the 2008 All-ACC Second Team, Sergio Render just went through arthroscopic shoulder surgery. He'll be good to go in August.
7/28/08: Earned the starting job right away in 2006 despite being a freshman. Sergio Render improved his play as a sophomore. Oh, and he benches more than 425 pounds, so don't try to steal his lunch money.
3.
John Jerry
, Ole Miss
Height: 6-5. Weight: 350. Projected 40 Time: 5.42.
Projected Round (2009): 2.
2/10/09: Will likely follow his older brother, Perry Jerry, into the NFL as a first-day selection.
7/28/08: Indianapolis residents should think about getting earthquake insurance soon. When John Jerry runs a 40 at the combine, many homes could be destroyed. Jerry, obviously a punishing run-blocker, started nine contests as a sophomore.
4.
Mike Johnson
, Alabama
Height: 6-6. Weight: 305. Projected 40 Time: 5.20.
Projected Round (2009): 2-3.
2/10/09: A major reason for Alabama's return to glory. Mike Johnson was voted to the All-SEC Second Team. He started every game, 12 at guard and one at left tackle.
7/28/08: The bookend tackle across from Andre Smith, Mike Johnson started every game as a sophomore. Johnson seems like he would be a better fit as a guard at the next level.
5.
Stefen Wisniewski
*, Penn State
Height: 6-3. Weight: 290. Projected 40 Time: 5.12.
Projected Round (2009): 2-3.
2/10/09: Despite missing some time with a bum knee, Stefen Wisniewski was still voted to the All-Big Ten Second Team.
7/28/08: Stefen Wisniewski moved his way into the starting lineup in the middle of his true freshman year.
6.
Brandon Carter
, Texas Tech
Height: 6-7. Weight: 360. Projected 40 Time: 5.52.
Projected Round (2009): 3.
2/10/09: If you've watched any Texas Tech games, he's the crazy guy with paint all over his face who looks like he just escaped from the mental hospital. Brandon Carter was an All-Big XII second-teamer.
7/28/08: And you thought John Jerry was huge... Brandon Carter eats defensive linemen for dinner and tops it off with a few safeties for dessert. In all seriousness, the monstrous Carter started 13 games in 2007, though it's popular belief that he threatened to eat the entire coaching staff if they put him on the bench.
I will predict that the Lions will draft an OT in round 1 in the 2010 draft. I think the Lions will also look at some guards in the third round.